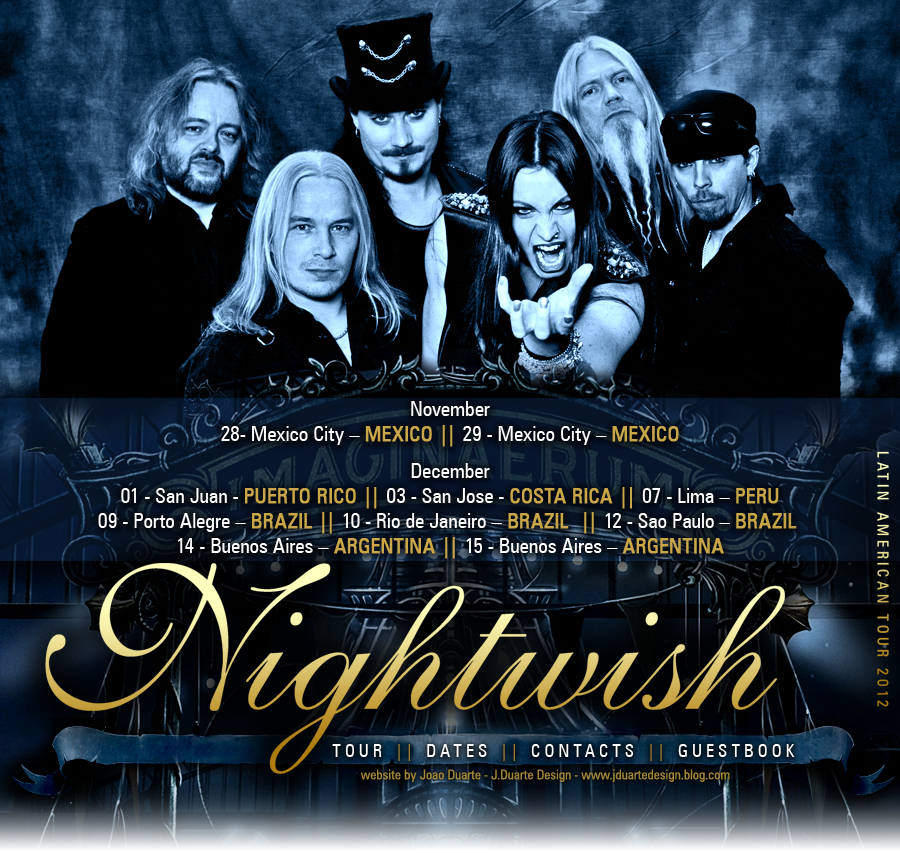 "I Want My Tears Back" live from the Hartwall Areena 10.11.2012
---
POSTERS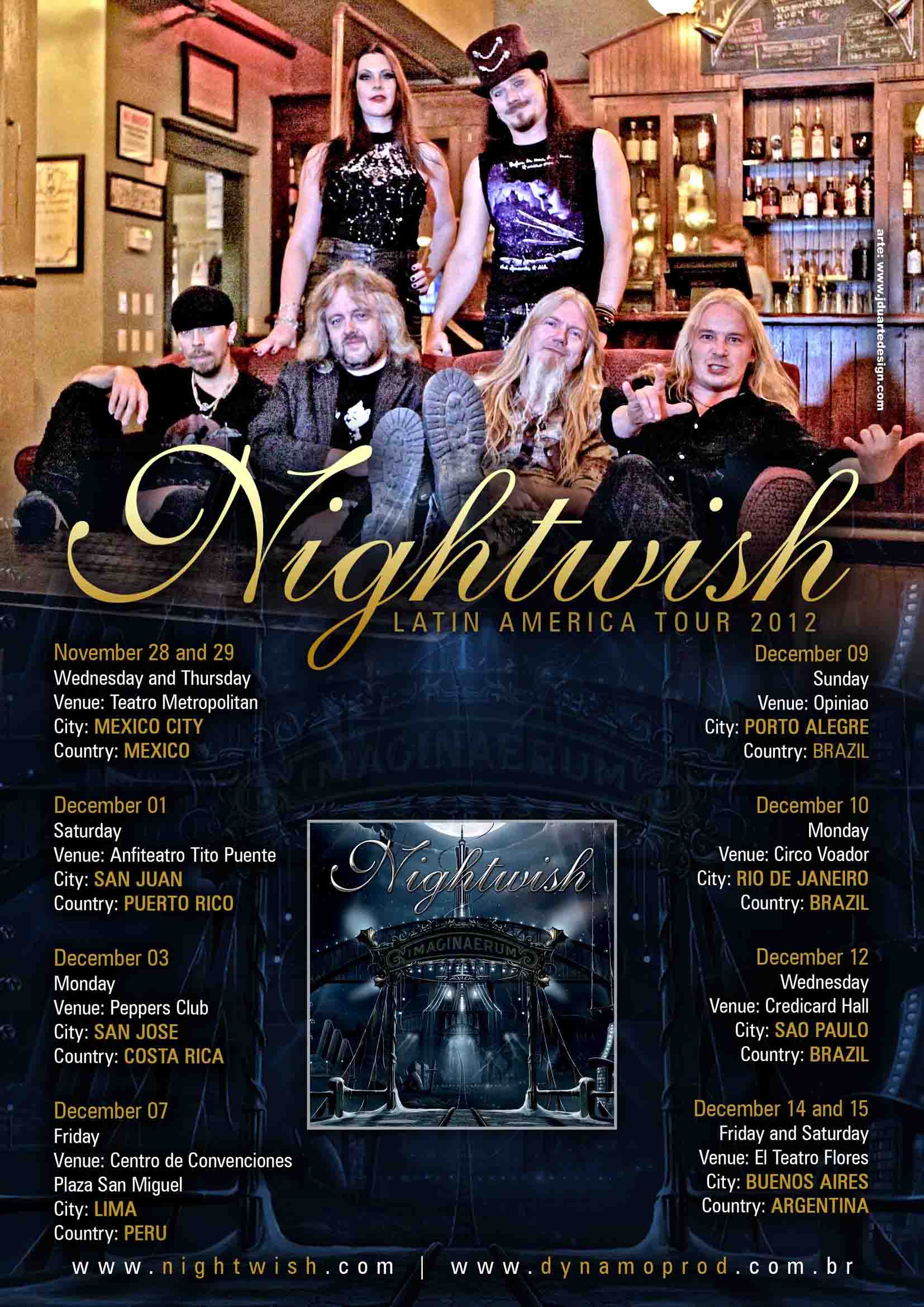 Click here and here for tickets

[SOLD OUT]

Tickets soon

Click here for tickets
(A venda começa dia 17 de Setembro para clientes Citibank, Credicard e Dinners e dia 23 de
Setembro para o público em geral)

Click here for tickets
(A venda começa dia 17 de Setembro para clientes Citibank, Credicard e Dinners e dia 23 de
Setembro para o público em geral)

Click here for tickets
(A venda começa dia 17 de Setembro para clientes Citibank, Credicard e Dinners e dia 23 de
Setembro para o público em geral)
More posters soon...
---
THE BAND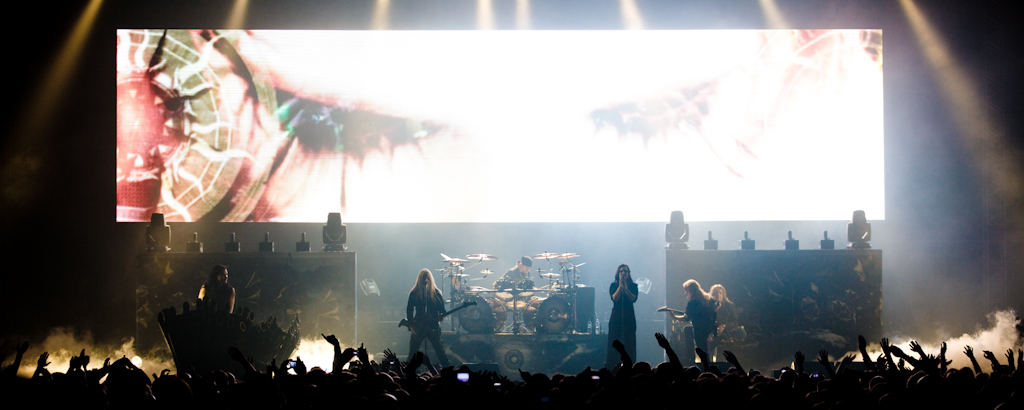 Nightwish
The idea of Nightwish was "born" in July 1996 at midnight when Tuomas was spending a night with his friends around a campfire. The first three songs, which were acoustic mood music, were recorded between October and December 1996. At that time, the band had three members:  Tuomas Holopainen, Tarja and guitarist Emppu Vuorinen. 
The band wanted to see what the music would sound like if drums were added (Jukka Nevalainen joined the band). Also at this time, the acoustic guitar was replaced with an electric. After a couple of weeks of training, the band went to the studio this was in April 1997. At that time seven songs were recorded. These songs can be found on the limited edition of the album Angels Fall First.
Nightwish's current line-up has five members with Anette Olzon replacing Tarja and Marco Hietala, who also took over the male vocalist part; previously male vocal-parts were done by Tuomas or guest singers.
Nightwish has been prominent in their home country since the release of their first single, "The Carpenter" (1997) and debut album Angels Fall First, and they did achieve worldwide fame with the release of the albums Oceanborn, Wishmaster and Century Child, which were released in 1998, 2000 and 2002 respectively. Their 2004 album, Once, which has sold more than 1 million copies, led to the broadcast of Nightwish video clips on MTV in the United States and inclusion of their music in US movie soundtracks. Their biggest US hit single, "Wish I Had an Angel" (2004), made it onto three US film soundtracks.
In May 2007, former Alyson Avenue frontwoman, Anette Olzon, was revealed as Tarja Turunen's replacement, and in the autumn, the band released a new album, Dark Passion Play, which has sold almost 2 million copies, with their big single, "Amaranth". The supporting tour started on October 6, 2007 and ended on September 19, 2009 making it a two years tour. A new E.P./live album, Made in Hong Kong (And in Various Other Places), was released in March 2009 as a MCD/DVD, and a seventh studio album, titled Imaginaerum, was released  December, 2011.
Nightwish is one of the best-selling musical entity in Finland with sales of over 900,000 certified copies. The group is also the most successful Finnish band abroad with more than 8 million records sold worldwide, and having collected over 60 gold and platinum awards.
---
BAND MEMBERS
---
IMAGINAERUM TOUR 2012
Imaginaerum World Tour is the fifth world tour by Finnish symphonic metal band Nightwish, in support of their seventh studio album,Imaginaerum.
The tour started in Los Angeles, USA, on January 21, 2012, and then the band will play an arena tour in Europe between March and May, and the group is also expected play in North and Latin America later that year and in Asia, Oceania and Africa the following year, in a 100 concert tour.
---
DYNAMO RECORDS RELEASES
(Argentina only in partnership with Del Imaginario)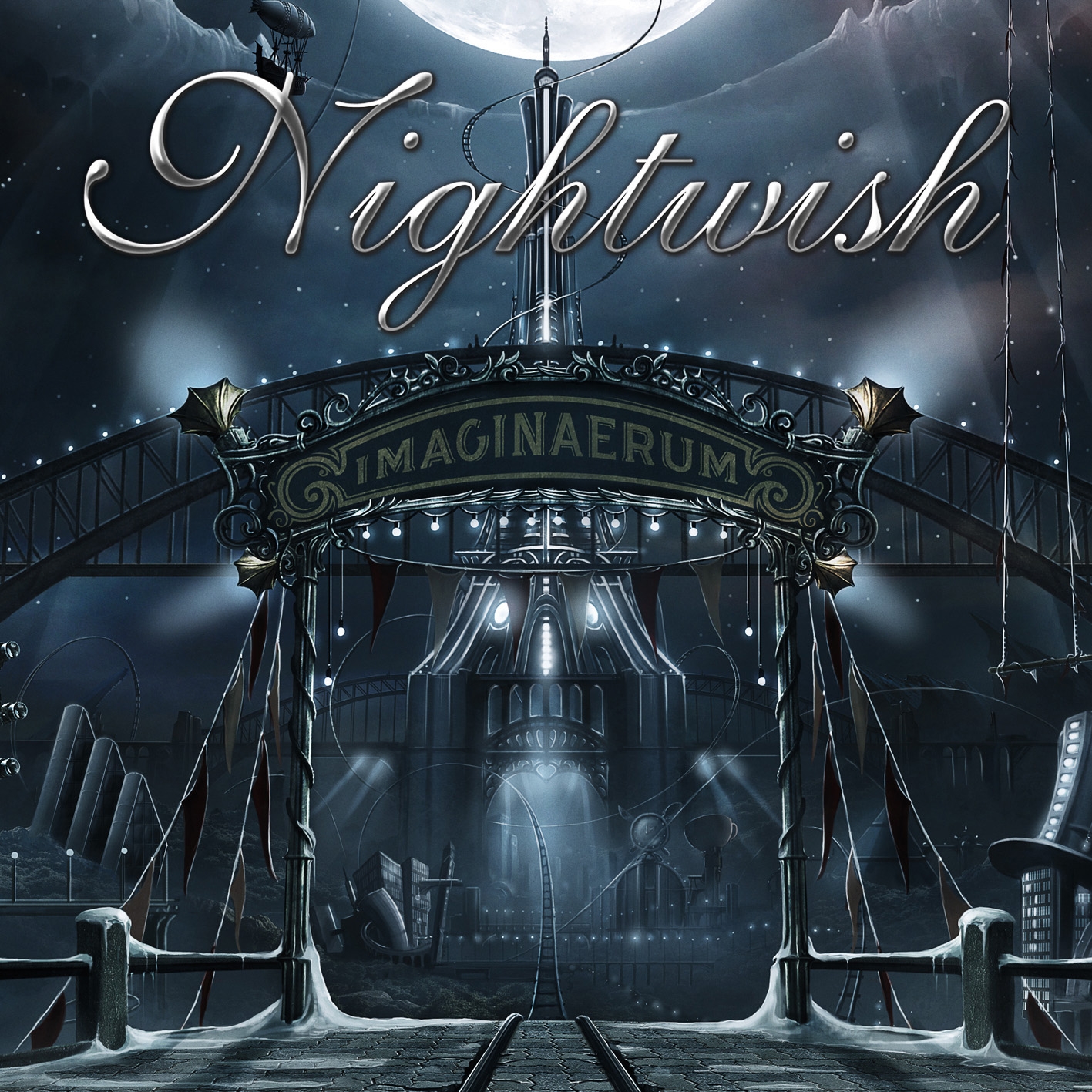 Imaginaerum
[CD 2011]
1. Taikatalvi
2. Storytime
3. Ghost River
4. Slow, Love, Slow
5. I Want My Tears Back
6. Scaretale
7. Arabesque
8. Turn Loose The Mermaids
9. Rest Calm
10. The Crow, The Owl And The Dove
11. Last Ride Of The Day
12. Song Of Myself
13. Imaginaerum
Imaginaerum is the seventh studio album by Finnish symphonic metal band Nightwish. The album is a concept album as said by Tuomas Holopainen in an interview telling the story of an old composer on his deathbed, reminiscing of his youth. The album was produced alongside the movie of the same name, directed by Stobe Harju, who previously directed Nightwish's "The Islander" music video, and the album and the film share the same themes and general story.
The first single off the album, "Storytime" was released on November 9, and quickly topped the Finnish single charts. According to Iltasanomat, Imaginaerum sold more than 50,000 copies in Finland during the first day after release. It has been described as Nightwish's best album by Sonic Seducer and has been album of the month by Dutch metal magazine Aardschok Magazine.
---
RECENT VIDEOS