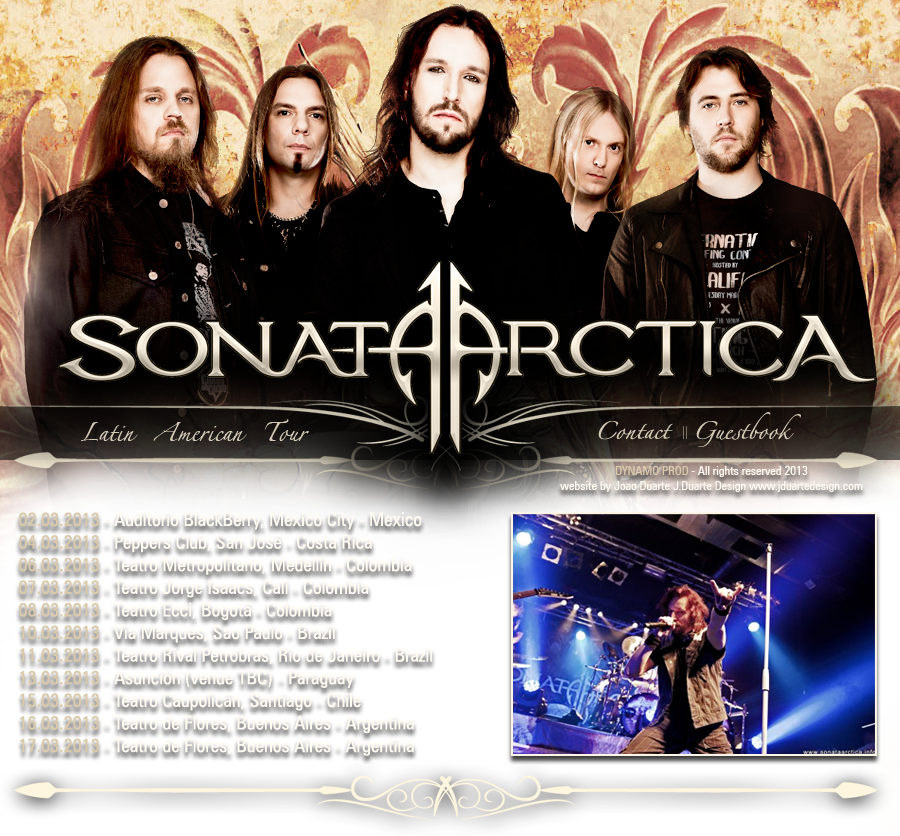 Sonata Arctica - The Last Amazing Grays (Live)
---
POSTERS
---
---
More posters soon...
---
SPOTS
| | |
| --- | --- |
| | |
| Sonata Arctica in Mexico 2013 | Sonata Arctica in Costa Rica 2013 |
| | |
| | |
| --- | --- |
| | |
| Sonata Arctica in Colombia 2013 | Sonata Arctica in Brazil 2013 |
| | |
| | |
| --- | --- |
| | |
| Sonata Arctica in Chile 2013 | Sonata Arctica in Argentina 2013 |
| | |
More videos at: http://www.youtube.com/user/LastAmazingFanClub
---
THE BAND
Sonata Arctica
Sonata Arctica was born in 1996 on the edge of the world, in the northern Finnish town of Kemi. The very first incarnation of the band was named Tricky Beans. As Tricky Beans, the group produced three demos (Friend till the End, Agre Pamppers and PeaceMaker) and played twice in Jyrki Sähkösirkus, a live tour version of a then famous TV pop show.

After some personnel changes in 1997, the outfit changed their name to Tricky Means. Let it be known to the Metal community that initially the band experimented in musical styles far from heavy metal.

Turning the page in 1999, Tricky Means recorded a new demo "FullMoon" in Tico Tico Studios located in their hometown, Kemi. At the time of recording the line-up consisted of: Tony (vocals/keys), Jani (guitars), Tommy (drums), and Janne (bass). This new demo was the first exploration for the band in heavy metal waters. The band's trademark sound of fast, melodic and keyboard oriented heavy metal with clear and high vocals was born. As fate would have it, and with help from Ahti Kortelainen of Tico Tico Studios, the "FullMoon" demo found its way to the premier metal label of Finland, Spinefarm. At the same time Tricky Means became Sonata Arctica.

Summer of 1999 brought us the first single from Sonata Arctica, "UnOpened". The title song was instantaneously included in Metalliliitto 1999 compilation CD. Two furious tracks from the single, UnOpened and Mary-Lou marked the arrival of SA to the power metal community. Of course, not everything went smoothly. During the first mix/pressing of the UnOpened single, Track 1, UnOpened, was unintentionally slowed down. The mistake was discovered shortly after the first batch of disks was sent to music stores. The entire first pressing was recalled. Approximately 200 copies from that first run were sold and are now considered rare collector's items.

Autumn of 1999 marked the release of the very first full-length album, "Ecliptica". Initially released in Finland, other countries quickly followed. Widely successful, Ecliptica opened doors for Sonata Arctica to participate in two tribute records. 'I Want Out' for a Helloween tribute album "Keepers of Jericho" and 'Still Loving You' for a Scorpions tribute, "A Tribute to the Scorpions" were both kick-ass versions of originals.

Soon after the release of Ecliptica, the band's mastermind Tony Kakko decided to concentrate more on singing, as opposed to trying to sing and play keyboards at the same time. Mikko Härkin (ex-Kenziner) joined the band to relief Tony from keys and to allow the frontman to roam the stage. This change allowed for much more energetic live shows. It introduced a new capability for Sonata Arctica - to have two keyboard players simultaneously, adding a new cool twist to the live sound.

Quick rise to fame continued through the end of 1999 and beginning of 2000. Soon after the release of Ecliptica, Sonata Arctica was chosen as support band for Stratovarius' European Tour, winning over 32 other bands from 15 different record companies. The tour started in April of 2000 with Strato and Rhapsody on the road. It lasted for two months, during which Sonata played over 30 gigs in 10 countries, traveling thousands of kilometers...
[click here to read the full history]
---
BAND MEMBERS
---
PICTURES
[pics from Mexico City 2013 click here] photos by Daniel Millan
[pics from Mexico City 2013 click here] photos by Germán Garcia
---
VIDEOS